The injuries and healing
What is diacutaneous fibrolysis?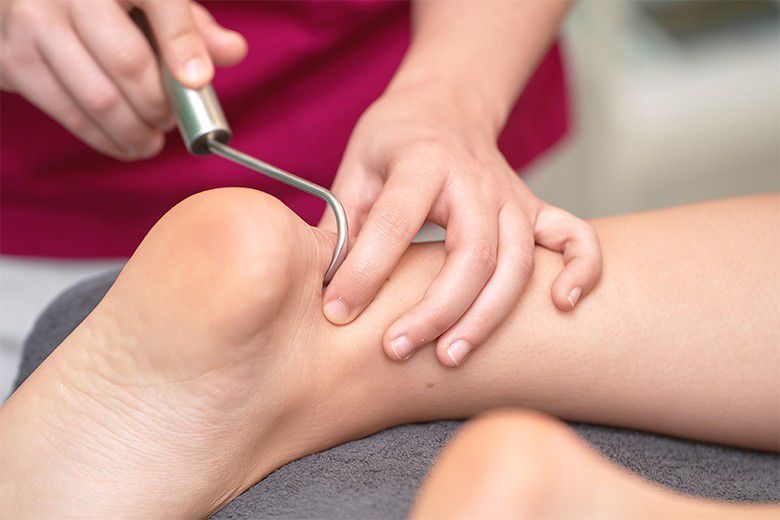 1
History and origin of diacutaneous fibrolysis
1

History and origin of diacutaneous fibrolysis

2

Technique and treatment

3

When to intervene with diacutaneous fibrolysis

4

When not to intervene with diacutaneous fibrolysis
Diacutaneous fibrolysis is important technique
Diacutaneous fibrolysis, or diacutaneous myofibrolysis, is a physiotherapeutic approach used to manage certain moderate musculoskeletal disorders.
It relies on calibrated metal hooks to mobilize connective tissues more precisely and deeply than manual manipulation.
History of diacutaneous fibrolysis
The technique originated in the years following World War II as an evolution of Dr. James Cyriax's method of deep transverse massage (MTP).
Uric and calcium deposits form on the myo-aponeurotic sliding planes, which clinically cause small, hard-to-feel corpuscles (balls).
They cause inflammatory phenomena, leading to deep adhesions that can "attack" the tissue sliding planes. Kurt Ekman, a Swedish physiotherapist and former Cyriax student in London, created the technique by applying percutaneous hooks, that is, without penetrating the skin.
The goal is to release or reduce adhesions and eliminate "irritative corpuscles" between aponeuroses or between muscles and aponeuroses.
At first, he worked with hooks made of wood or other materials. Over time, materials have changed, and we now find hooks made of stainless steel, aluminum, or resin.
Diacutene fibrolysis technique
The technique is based on the assumption that some musculoskeletal disorders are related to adhesions.
The hook promotes sliding between different anatomical structures due to its "fibrolysis" effect. It also makes it possible to access difficult areas to reach for the operator's fingers with less effort.
This technique is recommended for many mechanical conditions (including peripheral neuralgia) and vascular etiology.
The technique's effects produce mechanical, circulatory, reflex, and metabolic changes.
The hooks have different curvatures that allow them to reach different anatomical structures or adapt to different morphologies of the subject. Each hook ends with a small flat spatula that reduces the force per unit area to avoid skin irritation.
When the technique is applied correctly, it is not painful at all, although it can cause skin redness and small hematomas.
Treatment with diacutaneous fibrolysis
The treatment is based on a disto-proximal approach to pain. It helps avoid possible recurrence by getting into remote areas that are the starting point of myoaponeurotic tension patterns.
The therapist begins the search in regions that are distant from the 'pain locus' but have a close anatomical relationship from a mechanical, circulatory, or nervous point of view.
Once the therapist has learned the mobilization technique with diacutaneous fibrolysis, they can easily use the hook to perform very analytical and precise mobilizations.
Diacutaneous fibrolysis is an excellent method for treating adhesions that form between different tissues in the human body.
Pathologies that can be treated with diacutaneous fibrolysis
The Diacutaneous Fibrolysis Technique is very effective in treating the following diseases:
-Various diseases of the musculoskeletal system, such as fibromyalgia.
–Neuralgia of peripheral nerves, such as sciatica and cruralgia.
–Various neuralgia, Arnold's occipitalgia, other neurogenic headaches.
–Trigger point treatment.
–Post-surgical, post-traumatic or sports-related tissue mobility restriction syndromes.
–Inflammatory pain, epicondylitis or tennis elbow, epicondylitis or golfer's elbow, shoulder tendinitis, Achilles tendinitis, adductor pubalgia, other tendinitis.
–Trophic syndromes, Dupuytren's disease, carpal tunnel, and other canal syndromes, algo-neuro-dystrophy.
The indications for diacutaneous fibrolysis stem directly from its definition and origin anchored in Kurt Ekman's therapeutic practice.
Since the concept, in the beginning, is essentially mechanical, the indications also go in this direction. It is about improving tissue mobility, and thus, this method will likely address all factors limiting this mobility.
As explained in the story, most of Kurt Ekman's clientele were patients with musculoskeletal pain, including many athletes.
Many patients come from the sports field, where there are many opportunities for trauma or micro trauma, inducing bruising, which then organizes into myofascial adhesions.
There are sequelae of sprains, strains, and various tears, the hematomas of which cause tissue mobility deficits resulting in pain or functional impotence. These sequelae can come together under post-traumatic adhesions, leading to inflammatory reactions.
For example, a twin tear is most often followed by a hematoma that descends into the fasciae down to the ankle resulting in adhesions between the Achilles tendon and neighboring tendons, including the toe flexor tendon proper of the big toe. In use, activity will produce hyper-stress between these structures, responsible for tissue inflammation, which we can qualify as post-traumatic tendinitis.
Another frequently treated symptom is epicondylitis or "tennis elbow." Microtrauma causes the rupture of some muscle fibrils under the effect of shock, which is then followed by degeneration of its myofibrils into inelastic connective tissue. When untreated, this phenomenon will lead to an inflammatory reaction, thus to epicondylitis.
This inflammatory reaction could also be related to the presence of fibrous corpuscles.
Given these etiological conceptions, it is easy to see that many of these inflammatory tissue reactions may respond favorably to diacutaneous fibrolysis. Here are some examples of these reactions: scapulohumeral peri-arthrosis, trochanteric bursitis, Quervain's tendonitis, epitrochleitis, biceps femoris tendonitis, etc., provided the advanced etiology is accurate.
On the other hand, rheumatoid arthritis with different etiologic origins will not respond to this therapeutic approach of mechanical design, however, it will allow some symptomatic improvements, mainly due to neurological effects.
Primary indications for diacutaneous fibrolysis also include post-surgical tissue mobility restriction syndromes.
Any surgical procedure involves tissue bleeding, which will occur during healing, from adhesions that induce more or less functional impotence, regardless of the quality of hemostasis.
As mentioned earlier, the classical physiotherapeutic approach is often geared toward recovery of purely joint range.
A parallel recovery of tissue mobility by diacutaneous fibrolysis will work more on the source of joint amplitude limitation and thus have much better results.
Kurt Ekman got an international reputation for treating occipitalgia, migraine, and tension headaches. Patients complaining of "migraines" for years saw their symptoms disappear after two or three diacutaneous fibrolysis treatments.
Ekman had noticed that this symptomatology corresponded quite well with his etiopathological conception of mechanical irritation of Arnold's occipital nerve by underlying fibrous corpuscles.
His treatment then consisted, quite naturally, of working with diacutaneous fibrolysis, the fibrous sheath surrounding the nerve, and trying to free the nerve structure of any irritating adhesions or fibrous corpuscles.
Ekman then extended this approach to all sensory perforating nerves that could cause territorialized neuralgia.
Other very telling examples include posterior thigh pain limited to the knee, often called false sciatica, which may be related to irritation of the perforating branches of the posterior cutaneous nerve of the thigh (also called the small sciatic nerve).
Similarly, lateral buttock and thigh pain along the fascia lata may be related to sensory perforants of the superior cluneal nerves (from the dorsal branches D12 to L3) and find their solution in specific hooks at the level of their passage of the iliac aponeurosis.
Contraindications of diacutaneous fibrolysis
Its application must respect the locus dolenti, so it is far from a painful method and can have a significant relaxing effect.
The practitioner must have a good knowledge of palpatory anatomy, the physiology of soft tissue regeneration, and of course, a good practical manuality guarantees the success of the therapy.
The main contraindication of the method is of the practitioner.
If handled badly, the instrument can be a blunt object and can cause trauma.
Any therapeutic act, by its essence, involves a certain risk, but here it is heightened by the use of an instrument. An aggressive or nervous therapist who lacks tact can make fibrolysis extremely painful.
To avoid this, extremely gentle, calm, and careful practice is required to make the method painless and non-threatening.
Excellent anatomical knowledge, particularly in topographical anatomy, is essential to identify different tissues through palpation so as not to hook vascular or neurological structures. The practice of this method is not recommended unless specific and quality training has been followed.
One of the errors frequently observed in self-taught practitioners is the direct application of the technique to the symptomatic site. We then observe a 'rebound' effect, which results in an aggravation of the symptomatology for which we mistakenly blame the method.
The real source of this aggravation is an inadequate diagnosis that attacks the effects instead of addressing the causes. It is, therefore, particularly important never to treat the site of the symptom.
From the patient's point of view, a good skin condition is necessary. Placing the metal hook against the skin puts considerable stress on the skin.
Deficient or hypotrophic skin conditions as in the case of varicose ulcers; particularly diaphanous and fragile skin, as in the elderly; will not tolerate instrumental stresses and will be a relative contraindication to the method. This contraindication is relative because it is related to the technical skill of the practitioner.
At the lymphatic level, the presence of lymph nodes is also a contraindication of this instrumental approach. Any manual therapist has already realized that some patients bruise easily after a simple massage, a sign of a particular subcutaneous capillary fragility.
Therefore, this situation is also a relative contraindication to using diacutaneous fibrolysis because, as mentioned earlier, tissue microtrauma can cause adhesions, which would generate a vicious circle.
Taking anticoagulants will also be a relative contraindication of the method.
The patient's psychology is an important factor in the method's indication and relative contraindication.
Concerning children, it is not contraindicated to perform diacutaneous fibrolysis in very young children.
However, it should be kept in mind that they generally have a hypermobile and flexible tissue context and consequently, fibrolysis is not a good indication except in exceptional cases.