News and Curiosity
Pros and cons of training in the pool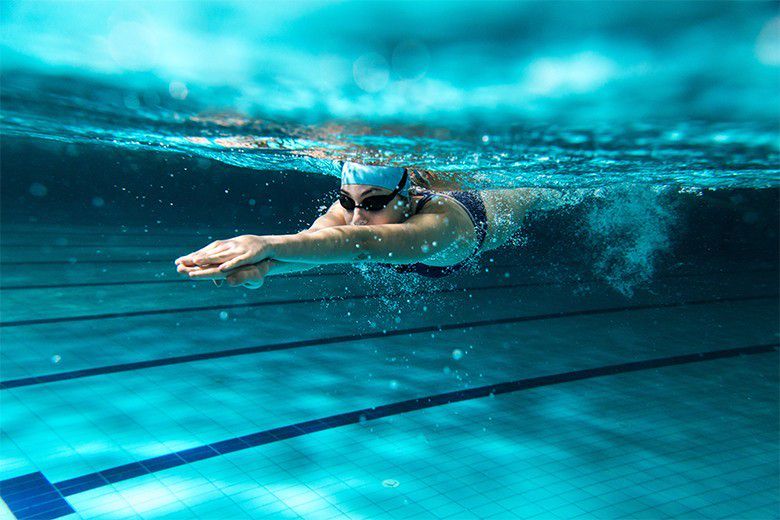 1

Complete sport

2

A swimming pool change the body

3

The benefits

4

The cons

5

A pool workout
Swimming as a complete discipline
Swimming is a complete sporting discipline: doctors say so, and science confirms it too. From a technical point of view, it allows you to tone your muscles thanks to exercises for the legs and buttocks without neglecting the arms.
However, it is essential to know how to set up a pool training well, so that it can bring every possible advantage to the athlete.
If the exercises in the water are not performed correctly, there is a risk of a series of physical inconveniences.
How does training in a swimming pool change the body?
Swimming, defined for all intents and purposes as a complete sport, is suitable for all ages, works all muscles, and helps improve posture.
With constant swimming training (i.e. at least once or twice a week) come great benefits to the body: movements are quicker in the water, giving an overall feeling of lightness.
Those suffering from joint or muscle problems benefit enormously.
Training in the pool helps increase strength and muscle mass through optimal endurance exercises, and even bones are strengthened.
Joints and ligaments become more flexible, and muscles lengthen thanks to the strokes performed in the water.
The body changes when subjected to proper water training.
And these are just some of the benefits it brings. Let's go over other advantages together.
What are the benefits of swimming?
In water, the body is supported and made lighter because gravity is reduced.
In addition, movements are partly impeded by the resistance of the water, which allows the muscles to develop, stimulating constant effort.
Every movement is by traction, and compressions are reduced to pushing against the edge of the pool.
All this dramatically reduces the likelihood of injuries and accidents, which only occur for very high mileage and in subjects with pre-existing problems.
As we have already mentioned, swimming is a complete sport because it ensures the toning of the whole body, from the shoulders to the trunk, legs, and buttocks.
Each part is called upon to do a job.
Movements become more flexible, and muscles lengthen, but that's not all.
Training in the pool also brings numerous benefits to the heart and breathing.
In addition to strengthening the pectoral, shoulder, and limb muscles, the heart muscle benefits greatly from these water exercises: at least 30 minutes of physical activity in the water reduces possible heart disease.
The body is constantly kept in motion in the water, and this helps burn numerous calories: it is no coincidence that swimming is an ideal ally in the athlete's diet.
In general, 10 minutes of swimming helps burn 60 calories.
Swimming also helps avoid asthma attacks, a prevalent problem in sports.
Exercising in the pool is beneficial for breathing, especially for
younger children with asthma.
The cons of training in the pool
Swimming brings numerous benefits to the body and rarely has any contraindications. However, some minor injuries can occur if the exercises are performed incorrectly.
As has already been observed, the water helps the body to float, and the only compressions occur when pushing off the edge during turns.
The lack of compressions eliminates the risk of injury, which only manifests for high mileage and in individuals predisposed to shoulder injuries.
To avoid injuries, one must take great care of one's technique and avoid using tools that increase water resistance, such as paddles, if one does not have a more than satisfactory technique.
An incorrect technique often stresses certain joints, facilitating injuries, the probability of which is, in any case, very low.
How to structure a pool workout
In swimming, everything is based on technique: if the exercises are performed correctly, the risk of injuring oneself is reduced.
So, how can you prepare correctly for a swimming workout?
First of all, you need to define your goal: Lose weight?
Recover strength after an injury? Create an aerobic base?
Once decided, you can start thinking about the various phases of training
with an instructor's help, where necessary.
Swimming exercises are customised based on the goals set by the athlete, considering the technical level, physical preparation, and time available.
Usually, however, a pool workout consists of three distinct phases
-warm-up
-training
-cool-down or stretching.
The warm-up is done out of the water through a series of exercises that activate the shoulders, arms, torso, and neck muscles.
As a rule, this phase lasts 5 to 10 minutes and is performed before entering the water.
The training continues by swimming fluently in the prefered swimming style of the athlete, who should concentrate on breathing and movement without exerting too much effort.
Then it is time to devote 10-15 minutes to technique, using boards and pull buoy, to concentrate on arms and legs.
The training phase continues with laps, repetitions, and recoveries that vary depending on your preparation and goals.
This part lasts up to 20 minutes.
Once finished, it is time for the cooling down phase.
Perform a series of laps for 10 to 15 minutes to lower the heart rate.
However, simple stretching exercises should be performed out of the water to loosen up the neck, shoulder, and arm muscles.